admin
| June 29, 2015 |
healthy snacks for weight loss
Breakfast is said to be the most important meal in a day; thus we should never skip it. This is the meal that provides us with all the energy that we need to help us keep going throughout the day. If you are on a diet and want to lose weight there are healthy breakfast recipes for weight loss you can easily create that are packed with energy giving nutrients, very delicious and best of all, contains less calories and cholesterol to help you lose weight. These healthy breakfast recipes for weight loss for everyday are a good way to jumpstart your day energetically and healthily.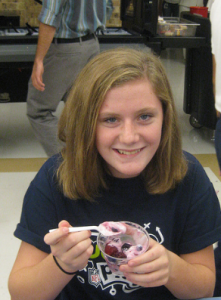 Breakfast Parfait
This is a very easy homemade healthy breakfast recipes for weight loss you can enjoy everyday. It contains all the much needed nutrients for a boost of energy and health each day. All you need are ¾ cup of low-fat cottage cheese of plain yogurt that is low-fat as well, 1 cup of pineapple chunks or diced slices of papaya or peaches, and 2 tablespoons of wheat germ.
In a small bowl place the yogurt or cottage cheese, top with fruits and finish off with wheat germ. This is a super easy to make especially for people who are always busy and on the go. It contains 247 calories that is sufficient enough to hold your energy until lunch time and with only 15 mg of cholesterol – very healthy yet very delicious indeed.
Breakfast Taco
This is another very easy to make breakfast recipe if you are trying to lose. This is a better option than the aforementioned if you have time to prepare for your breakfast meal as this takes up more time to prepare but still very easy and healthy. All you need are 2 pieces of corn tortillas, 1 teaspoon of your favorite salsa, 2 tablespoons shredded cheddar cheese preferably low-fat variety, and ½ cup of egg substitute such as egg beaters.
Top tortilla with salsa and cheese then heat on a pan for about 1-2 minutes or in the microwave for about 30 seconds until cheese starts to melt. While preparing the tortilla, on a separate skillet, coat it with non-stick spray or a teaspoon of olive oil. Over medium heat pour in the egg substitute and start cooking stirring continuously until the egg is thoroughly cooked. This process usually takes about 90 seconds to finish. Fill the tortillas with the egg and serve.
This is a very healthy breakfast recipes for weight loss as it contains only 3 mg of cholesterol unlike if you used the usual egg instead. It also has 153 calories that can suffice you with energy until your next meal.
These are just some of the healthy breakfast recipes for weight loss you can easily create at home whether you are on the go or actually have time to prepare. Nonetheless, you get all the nutrients and energy supply that you need. Great recipes if you are on a weight loss program as these healthy breakfast recipes do not contain too much calories which can eventually turn into fat.